Reframe: How to defend your faith without raising your voice
Most of us have been challenged at some point to speak about or defend our faith. This could have been whilst in the pub, on a chat with our friends or even with other people who go to church. At times, it can be difficult to find the correct words or courage to speak out. To help with this, we will be hosting a series of talks presented by Catholic Voices.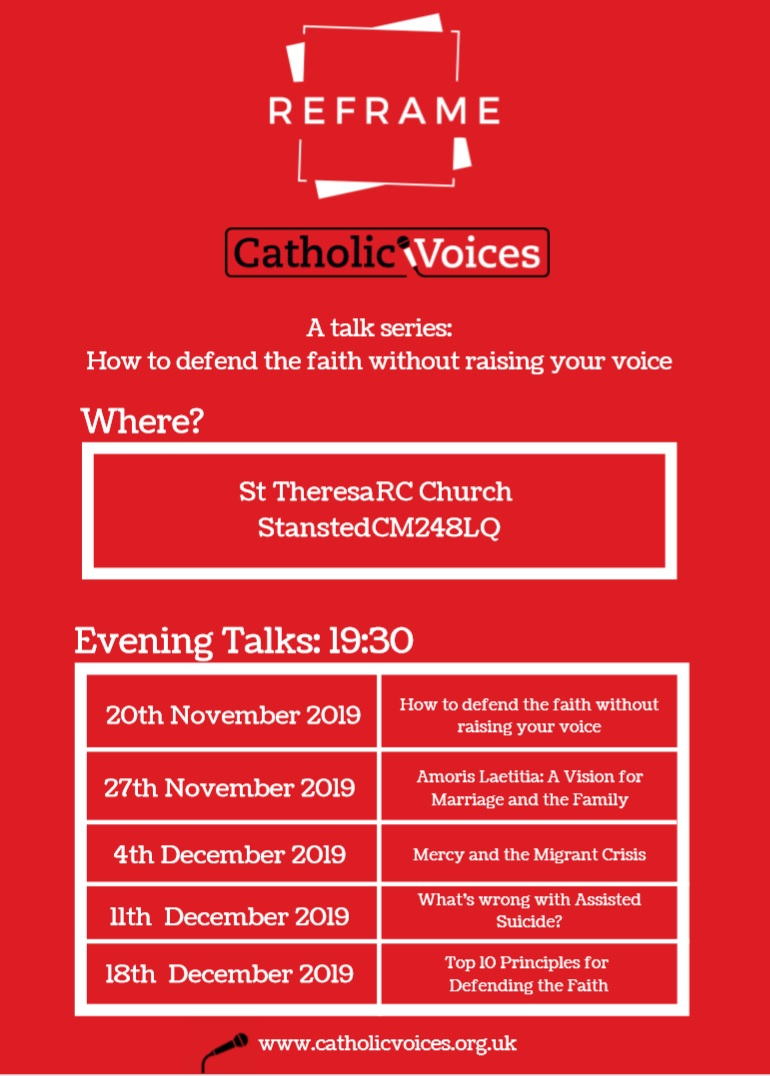 At the heart of the talks is a method called Reframe, which aims to help us understand how to identify values behind the criticism we face regarding our faith and avoid the defensiveness and self-defeating responses which many of us instinctively deploy in the face of hostility.
The talks will take place at St Theresa's Parish Hall on Wednesday evenings during Advent. Times:
7:00 pm Arrivals and light refreshments
7:30 pm Talk starts
For catering purposes only, we would be grateful if you could register here.
Café Formation Day – Let it be
When? Saturday 23rd November from 10 am – 3 pm.
Location: The Blessed Sacrament, 116 Melbourne Avenue, Chelmsford, CM1 2DU.
Sign up: Eventbrite ID 66323010911 or email [email protected]
An engaging and inspirational day for Deacons, Catechists, Evangelisation and Ongoing Formation Teams, and those who want to grow in faith.  Experience the series message of evangelisation with the CaFE team to answer questions. Day input by DAVID PAYNE, Director of Catholic Faith Exploration. Each booked attendee receives a free course book! Places are limited. Event is free, a donation will be taken to cover expenses.
Past events
Photos and details of past events can be found here